CIND 999999
Have you seen this caboose?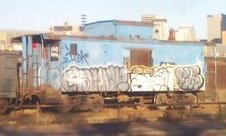 CIND999999 is the blue caboose that Blue Caboose is named after. Kim and I started seeing the blue caboose near Longworth Hall around the time that the band started practicing, maybe a little before.

For a while now, this caboose has not been seen anywhere near the Queensgate Yards. It was supposedly moved up to Washington Courthouse for a spell. Rumor has it that it's been moved to Norwood recently. Keep your eyes and ears peeled. If you see it, let us know!